I was reading a thread on a forum, when a friend offered to put up on her blog
a tutorial on dyeing

playsilks

with

Kool

-aid.
How very neat! A way to dye silks, and I didn't even have to wear gloves or worry about fumes? I could do this!
I proceeded to convince the husband to order me some silks from
Dharma

Trading
, so that I could dye them for Sunburst. He obliged, which shows just what a great guy he is, because I often make grand plans craft related, buy lots of materials, and then fall very short on the follow through.
So, I got my silks, and then, I raided our
Kool
-aid stash.
I used Lemon-Lime (green), Pink Lemonade (pink), Lemonade (yellow), Grape (purple), Orange (
haha
- orange), and Ice Blue Lemonade (Blue).
Huh - we have a lot of lemonade variations, don't we?
Anyway, you soak the silks in a water/vinegar mixture for a short while, then put water, a splash of vinegar, and
Kool
-aid packets into each bowl. For instance, the blue and green only had two packets, whereas I used 4 each for pink & yellow, figuring they were lighter colors.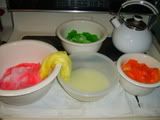 The coolest part was the way that the water in the bowl
turned
clear as the silk soaked up the dye. Before I put in the silk, the purple looked black, and when I was done, the water was basically clear. Very neat.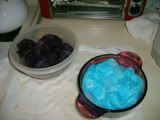 After
rinsing
with cool water, hanging a dry, and a quick run through the dryer, I have the finished product!
They came out with a lovely
variegated
pattern, that I was hoping they would have, but wasn't sure how to
achieve
on purpose ( I used small bowls, so some sections pulled in a lot more color.) The pink/yellow was the only one I did multi-color on a single silk, and I am really pleased with the results.
So, Thank you Mary! This was so much fun, I am really wanting to do more. I love easy crafts, and the whole kitchen smelled so fruity too.